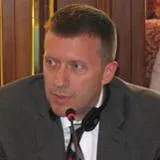 John Pennell
PhD Researcher
Contact details
Biography
John is a PhD candidate in the Defence Studies Department (DSD) and a Senior Editor of the War Studies Department's Strife blog and journal. His PhD is focused upon Russia's actions in Ukraine and Syria within the context of the changing character of warfare. John is also a Career Member of the US Senior Foreign Service, currently serving in Tunisia where he oversees US assistance to Libya. His prior assignments have included Afghanistan, El Salvador, Indonesia, Iraq, Kenya, Ukraine, and Uzbekistan. He has an M.S. in National Security Strategy from the National Defense University/National War College, an MA in Political Science from American University, and a BA in Politics from The Catholic University of America.
Research Interests
Ukraine, Russia, and the former Soviet space; the Middle East and North Africa; the role of soft power and non-kinetic measures in conflict; and asymmetric, gray zone, and similar tactics.
Thesis Title
Understanding Russia's Actions in Ukraine and Syria within the Context of the Changing Character of Warfare
Supervisors
Dr. Tracey German (primary) and Dr. Warren Chin (secondary).