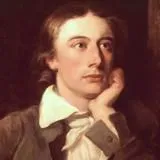 Biography
John Keats (1795-1821), who trained as a surgeon-apothecary at Guy's Hospital Medical School in 1815-6, is renowned as one of the most significant English Romantic poets.
John was born on Moorgate, London and attended John Clarke's school in Enfield. The headmaster's son, Charles Cowden Clarke, was a mentor to John and introduced him to Renaissance literature including Tasso, Spenser and Chapman.
Both of John's parents died when he was young. His father from a head injury caused by a riding accident when John was eight and his mother from tuberculosis when he was 14. John left school at this time to apprentice to the family doctor, Thomas Hammond.
John followed his apprenticeship by registering as a medical student at Guy's. Showing a natural aptitude for the subject, it seemed assured that he would have a successful medical career. But throughout his medical training John was also dedicated to writing. Shortly after receiving his apothecary licence in 1816 he gave up medicine to concentrate on poetry.
John struggled financially over the next few years, but produced two volumes of poetry which have come to be seen as some of the finest in the English language. He is best known for works such as 'Endymion', 'Bright Star', and his 1819 odes including 'Ode to a Grecian Urn', 'Ode to a Nightingale' and 'To Autumn'. John died of tuberculosis age just 25, but he has had a profound influence on many poets that followed him. He is commemorated with a bronze statue near the colonnades at Guy's Campus.
Did you know? Keats would often sleep in until 10am; he enjoyed it so much he even wrote a poem about it, 'Ode on Indolence'.