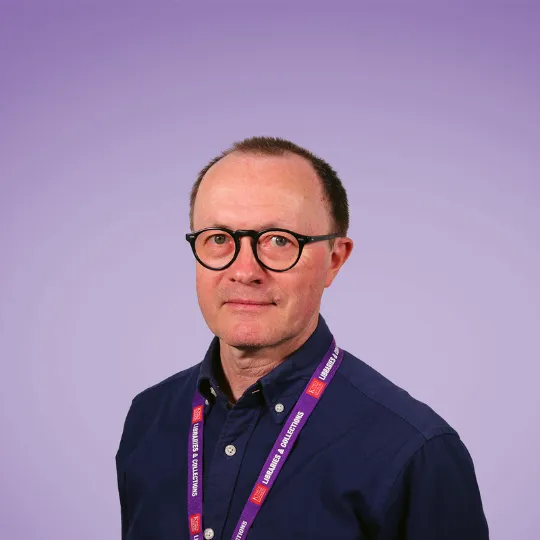 Dr Jonathan Koestlé-Cate
Learning and Teaching Librarian
Contact details
Pronouns
he/him
Biography
Jonathan is a Learning and Teaching Librarian whose role includes creating teaching materials and delivering workshops for King's students and NHS staff, advising on systematic reviews, and acting as chief point of contact within LDD for NMPC and A&H. He joined King's in 2008 as a part-time Library Assistant, moving up to become a Senior Library Assistant and then a Learning and Teaching Librarian. From 2006-2019 he also worked part-time as an Associate Lecturer at Goldsmiths, University of London, during and after studying for a PhD in Art History. Prior to joining King's he was a Library Assistant for Regent's College and The Chartered Society of Physiotherapy. 
Areas of Expertise
Ask him about information literacy, systematic reviews, critical appraisal, qualitative and quantitative research and referencing.
Training
The Learning Design and Delivery team delivers several workshops, either as regular sign-ups or specifically designed for particular KCL or NHS cohorts.
Jonathan is specifically responsible or co-responsible for the following workshops and courses:
LIB230/NHS004: Introduction to Critical Appraisal of Qualitative Research
LIB225: Literature Searching for Arts & Humanities
LIB261: Search Techniques for Systematic Reviews
Links
Publications
Books
Koestlé-Cate, J. (2016). Art and the church: A fractious embrace: ecclesiastical encounters with contemporary art. Routledge, Taylor & Francis Group.
Recent articles
Koestlé-Cate, J. (2022). Cistercian Adventures in Glass: From Noirlac to Conques. Religion and the Arts, 26(4), 465–497. https://doi.org/10.1163/15685292-02604001
All publications
A full list of publications is available on academia.edu.