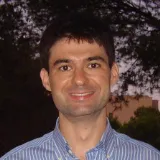 Dr Jordi Alastruey
Senior Lecturer
Contact details
Biography
Dr Jordi Alastruey graduated with an MSc in Civil Engineering (Structures, First Class) from the Polytechnic University of Catalonia and obtained a PhD in Bioengineering from Imperial College London. His thesis focused on the development, validation and application of a nonlinear one-dimensional model of pulse wave propagation in the arterial network. He then conducted postdoctoral research on computational flow modelling in the cardiovascular system at the Departments of Aeronautics and Bioengineering, Imperial College London. In 2009 he was awarded a British Heart Foundation research fellowship; he started his fellowship research at Imperial before moving to King's in 2011. He was promoted to Lecturer in 2013 and to Senior Lecturer in 2017.
Dr Alastruey's lab specialises in cardiovascular haemodynamics. They develop novel models for simulating pulse wave signals - such as blood pressure, blood flow and PPG waves - under a variety of physiological and patho-physiological conditions, methods for calibrating these models and understanding physical mechanisms underlying their results, as well as signal processing techniques to assess the functions of the cardiovascular, respiratory and autonomic nervous systems from pulse wave signals acquired by a variety of devices (including wearable sensors).
Additional information on Dr Alastruey's research can be found here. Complete lists of his peer-reviewed journal papers with citations can be found in his Scopus, Google Scholar and Research Gate profiles.