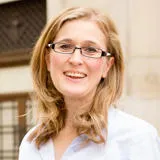 Julia Kerr
Interim UCAS Lead & EAP Tutor
Biography
Julia holds an MSc in Psychology of Education from UCL Institute of Education and a BA in French and Spanish from the University of Manchester. She studied for a year at the Université de Bourgogne, Dijon, France, as an Erasmus student, obtaining a Licence en Lettres Modernes. She is a Cambridge DELTA-qualified English for Academic Purposes (EAP) tutor and has taught in France, Spain, and Guatemala (British Council).
Julia has been teaching EAP since 2009 within UK universities and further education colleges on a variety of programmes for international students, including foundation, in-sessional and pre-sessional, most recently at Royal Holloway University of London, INTO Manchester and Durham University.
At the University of Reading (2017-18), Julia trained to become an accredited "Positive Minds" Facilitator, and then delivered workshops to promote mental wellbeing and resilience among staff and students of their International Study & Language Institute.
Prior to teaching, Julia worked in a commercial environment for nine years, particularly for a management consultancy, specialising in export development and entrepreneurship event management.
Julia enjoys developing materials for discipline-specific groups of international students. She is particularly interested in guiding students towards achieving criticality in their writing and the emergence of the writer's voice. Inclusive Language Teaching is also an area of specific interest.
Julia's interests and hobbies are: trees, volcanoes and design of all types. She also enjoys watching tennis and classical ballet.