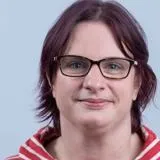 Dr Julia Ouzia
Senior Lecturer in Psychology (Education)
Contact details
Biography
Julia completed a BSc (Hons) in Psychology, an MSc in Clinical Child Psychology, and a PhD in Brain and Cognition Research at Anglia Ruskin University. She has since taught undergraduate and postgraduate psychology students at Goldsmiths, University of London, and the Institute of Education, University College London, before joining the BSc Psychology teaching team at King's in late 2019.
Julia's has extensive experience conducting research in the areas of cognitive science and psycholinguistics. Specifically, her previous work used reaction time measures, eye-tracking, and psychometric tools to explore multilingual cognition. She remains an active member of the Multilanguage and Cognition Lab at the Institute of Education, University College London.
Since autumn 2021, Julia is a trainee Gestalt psychotherapist studying part-time at the Metanoia Institute which led her to develop an additional line of research focusing on qualitative exploration of relational phenomena in contemporary psychotherapeutic practice.
Furthermore, Julia is passionate about inclusive education and has a keen interest in finding practical solutions to implementing Universal Design for Learning principles in higher education. 
Research Interests 
Multilingual verbal and non-verbal cognition
Relational psychotherapy
Inclusive educational and therapeutic practice 
Teaching
Julia teaches across all levels on the BSc Psychology and supervises undergraduate and postgraduate research projects. She is involved in the coordination of the following modules:
Psychology and the Brain (Level 4)
Key Studies in Cognitive Science (Level 5)
Theories and Methods in Psycholinguistics Research (Level 6)
Understanding talking therapies: From classical theory to contemporary practice (Level 6)
Julia is also one of the Senior Personal Tutors in the School of Mental Health & Psychological Sciences.
Expertise and Public Engagement
Julia regularly disseminates her work to the wider public through non-academic writing and speaking engagements. Previous work of her has been featured in The Conversation and the newsletter of the UK Association for Gestalt Practitioners.
Julia is the trainee officer of the UK Association for Gestalt Practitioners