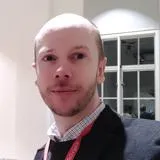 Julian Strong JP AKC
Director of Operations
Contact details
Biography
Julian Strong is the Director of Operations in the Faculty of Natural, Mathematical & Engineering Sciences (NMES), King's College London. In this role he leads the faculty's professional services staff and the operational delivery of services in support of the faculty's academic mission. With the Executive Dean, he leads on the development and implementation of faculty strategy and business plans, oversees resource allocation, delivering income targets, and KPIs.
Prior to King's, Julian worked in local government starting on the national graduate programme and latterly in democratic services.
Julian holds an MSc in Management from the University of Warwick, a BSc in Politics from the University of Bristol and diplomas in public relations and public affairs from the CIPR.
Julian is a commissioned cadet forces officer in the Royal Navy's Volunteer Cadet Corps and serves as a magistrate in London's central division.