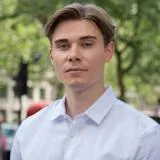 Mr Julius Juette
PhD Student in Public Services Management and Organisation
Research interests
Public Services Management & Organisation
Contact details
Biography
Project Title: ESG in a sustainable cryptoasset economy
Year of Entry: 2022, Full-Time
Supervisors: Professor Alexandru Preda, Eliézer Ndinga (Director of Research, 21.co)
Julius Juette  is a PhD researcher within the Public Services Management and Organisation department of King's Business School. His research focuses on the newly emerging and rapidly developing cryptoasset economy, digital assets such as Bitcoin and Ethereum and particularly their ESG profile. In 2022 Julius was awarded a full PhD scholarship by King's College London and in collaboration with ETP issuer 21.Company (previously: 21 Shares/ Amun) to carry out his doctoral research.
Research areas:
Cryptoassets
Econometrics
Finance
Accounting
In 2021 Julius completed his MSc in Accounting and Finance at the University of Bath and graduated with distinction. His dissertation focused on carrying out an econometric investigation of the asset classification of cryptoassets. Julius is also currently collaborating on a paper with a colleague from the University of Bath on the topic of cryptoasset liquidity and CBDC.
Outside of academia, Julius has gained experience in consulting and audit firms and volunteered as pro bono consultant and member of a consulting society.