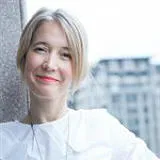 Justine Simons OBE
Cultural Fellow
Biography
Justine Simons OBE is a Cultural Fellow within King's College London.  
Justine is Deputy London Mayor for Culture and Creative Industries. As Head of Cultural Strategy for the Mayor of London for over a decade, she has played a central role in the cultural revitalization of London – with Mayors from both sides of the political spectrum. Justine is the Chair of the World Cities Culture Forum – a major global leadership initiative on culture involving 30 world cities, putting creativity at the heart of urban policy. She leads London's cultural policy encompassing music, theatre, visual arts and art in the public realm.
Justine is Director of the Fourth Plinth and has built it into the UK's biggest and most talked about sculpture prize. She shapes City Hall's Investment Strategy for the Creative Industries covering film, fashion and design. Justine played a central role in staging the largest cultural festival in the capital for the London 2012 Olympic and Paralympic Games and recently developed London's first cultural tourism vision. Earlier this year she was awarded an OBE by Her Majesty The Queen for her work championing culture in London.