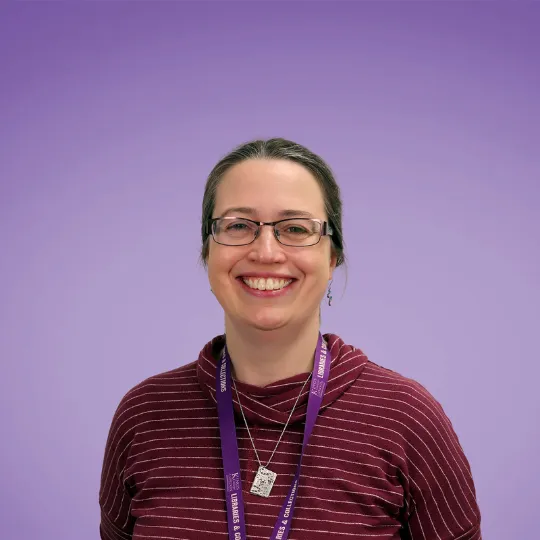 Karen Poole MSc MCLIP FHEA
Clinical Support Librarian
Contact details
Biography
Karen is a Clinical Support Librarian supporting King's College Hospital NHS staff at Denmark Hill. She undertakes evidence searches on behalf of NHS staff, teaches information literacy, health literacy, and critical appraisal, and co-authors and supports best practice in systematic review searching. She has an interest in developing e-learning, playful learning and inclusive pedagogy.
She joined King's in 2010 and has had various roles since then, most recently working as at Teaching & Learning Librarian supporting the Faculty of Life Science & Medicine. Previously she has worked as an Information Specialist at Moorfields Eye Hospital and in the Royal Pharmaceutical Society library service.
Karen has an MSc in Information Science and is a Chartered Member of CILIP (revalidated 2022) and a Fellow of Advance HE.
Areas of Expertise
Ask her about information literacy, critical appraisal, flipped classroom, health literacy, scoping or systematic review searching best practice.
Contact Karen if you would like to arrange a library presentation for your team, ranging from:
an introduction to the library and library resources and how to quickly access evidence-based resources
health database searching
critical appraisal skills
advanced searching skills for systematic reviews and scoping reviews
health literacy and knowledge mobilisation
Training
Karen regularly runs workshops on finding and critically appraising evidence for NHS staff. Book onto these or book a 1:1 with her via our NHS Library Guide.
Karen teaches on the following courses:
NHS001: Rapid access to evidence-based resources
NHS002: Healthcare databases for Advanced Searchers
NHS003: Introduction to Critical Appraisal of Quantitative Research
NHS004: Introduction to Critical Appraisal of Qualitative Research
Links
Publications
Poole, K. (2021). A flipped classroom approach to teaching search techniques for systematic reviews to encourage active learning. Journal of Information Literacy, 15(1), 68. https://doi.org/10.11645/15.1.2847
Irwin, C., Bliss, J., & Poole, K. (2018). Does Preceptorship improve confidence and competence in Newly Qualified Nurses: A systematic literature review. Nurse Education Today, 60, 35–46. https://doi.org/10.1016/j.nedt.2017.09.011
Poole, K., & Butler, S. (2006). Pharmacy information on the internet. Pharmaceutical Journal, 277(7429), 673–676. Scopus.