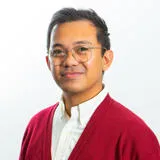 Karl Evangelista
Faculty Communications Support Manager (Events & Engagement)
Contact details
Biography
Karl Evangelista is the Faculty Communications Support Manager (Events & Engagement) in the Faculty of Natural, Mathematical and Engineering Sciences, King's College London. In this role he manages all the faculty led events and supports all other department, research, student recruitment and EDI related events within the faculty. 
Prior to this, he has worked within the Central Brand and Marketing team at King's College London. Before working in Higher Education, Karl worked in healthcare, banking and telecommunications back in New Zealand.
Responsibilities:
Lead and manage the planning and delivery of engaging online and in person events that promote the faculty and its departments to a diverse audience, including internal and external stakeholders.
Establish an events strategy for the faculty and manage events that support the faculty's communications aims.
Manage the faculty's participation in high profile external events and in events led by other parts of King's, including the Culture, Fundraising, London and Service teams
Plan and implement appropriate methods for evaluation of events and monitor and analyse the results.
Work with the faculty and university internal communication teams to ensure department and faculty news and events are incorporated into the university's internal communication channels and internal communications are aligned with university strategy and best practice.
Responsible for writing and editing content on the events pages of the intranet and web pages
Contribute to the development and implementation of the social media strategy, in liaison with the departments.