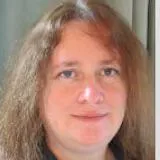 Professor Kate Crosby
Visiting Professor of Buddhist Studies
Contact details
Biography
Kate Crosby joined King's as Professor of Buddhist Studies in April 2013. She came to King's from SOAS where she was Director of the Centre of Buddhist Studies and Seiyu Kiriyama Reader in Buddhist Studies. Before that she held posts in Buddhism, Pali and Sanskrit at the universities of Edinburgh, Lancaster and Cardiff, as well as teaching in Oxford at a number of colleges and the Oriental Institute. She has held visiting professorships at the Universities of McGill, Montreal, Dongguk, Seoul and the Buddhist Institute, Phnom Penh. She studied Sanskrit, Pali and other Buddhist languages, Indian religions and Buddhism at Oxford (MA and D.Phil., St. Hugh's and St. Peter's). She also studied at the universities of Hamburg and Kelaniya (Sri Lanka), as a Commonwealth Scholar, and with traditional teachers in Pune, Varanasi and Kathmandu.
In addition to textual work using mainly classical languages, as well as some in mixed Pali-Sinhala, she has conducted fieldwork in most Theravada countries. She is co-editor of the international peer-review journal Contemporary Buddhism and a member of the Theravada Civilizations Project.
Research interests and PhD supervision
Theravada Buddhism
Sanskrit and Pali language and literature, including vernacular-Pali mixed literature
Buddhist practice and traditions of Sri Lanka and Southeast Asia
Buddhism in Application
History of Science in Buddhist contexts
I am interested by the historical and current textual and practice aspects of Theravada Buddhism. I am currently working on the relationship between pre-modern Theravada meditation and other technologies of transformation including ayurvedic obstetrics and pharmaceutical mathematics. I argue that the now marginalised boran kammatthana/yogavacara meditation of the pre- and early modern period in fact shared models of transformation found also in other endeavours to control and improve the human condition such as medicine. It was in part the replacement of these models with new western concepts of the body-mind relationship, medical treatment and what was considered 'rational' that allowed for this practice to be displaced.
In recent fieldwork in Cambodia I traced former and current practitioners, seeking to identify factors that have led to its maintenance or abandonment there since an initial flowering in the post-Khmer Rouger period. This research is part of my ongoing work on boran kammatthana/yogavacarameditation, including a component undertaken under the auspices of an AHRC Religion and Society grant. In collaboration with Andrew Skilton and Amal Gunasena, I recently confirmed the 1756 importation of this tradition into Sri Lanka from Ayutthaya with the Siyam Nikaya through a text composed by one of the monks of the Siamese mission for one of the queens of King Kirti Sri Rajasinha (Journal of Indian Philosophy 2012). I am also working on the edition and translation of two of the Sinhala-Pali manuals of this tradition, one a manual of litany for devotion prior to undertaking meditation, the other the instructions for meditation.
Other ongoing publication projects include a book on the decisions and practice of leaving the Sangha in Theravada Buddhism, the edition of two conference volume and further work on meditation. I am also an advisor on the Bodleian Library's Revealing Hidden Collections Project, which is currently cataloguing Shan lik long texts in the U.K. and Maehongson, northern Thailand.
I welcome enquiries from people interested in undertaking a PhD in any aspect of Theravada Buddhism, Buddhism in Application, Buddhist meditation and Pali or Sanskrit literature. Other areas of Buddhist studies also considered.
Please email me henrietta.crosby@kcl.ac.uk if you would like to be added to our emailing list for the Buddhist studies research seminars which take place at King's on Fridays at 5pm.
For more details, please see my full research profile.
Teaching
Undergraduate modules
4AAT1901 Introduction to Buddhism 
5AAT2901 Buddhist Ethics
6AAT3901 Therevada Buddhism
Postgraduate modules
7AATC901 An Introduction to Buddhism through its Arts
7AATC903 Regional Buddhism
7AATC902 The Codicology of Buddhist Manuscripts
Expertise and public engagement
Buddhism in Sri Lanka, Southeast Asia and the West. Buddhist meditation. Buddhist literature. Various film/T.V. and radio consultations and radio broadcasts, including In Our Time with Melvyn Bragg.