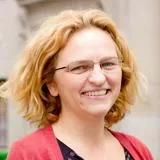 Katie Jones
EAP Tutor
Contact details
Biography
Katie has a BA in Combined Honours German & Spanish from the University of Southampton.
In 1997, she gained the Cambridge CELTA qualification for teaching English to adults before going off to teach in Spain, Japan, Germany and China.
On her return she worked at private language schools in Cambridge and Canterbury and completed the Cambridge Diploma in English Language Teaching to Adults (DELTA).
Whilst living in Kent, Katie also taught at South Kent College, a Further Education institution, and then became a qualified CELTA tutor, training people who wish to become English language teachers.
She worked at UCL prior to coming to King's to work as EAP Tutor.