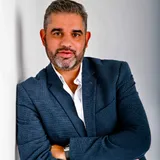 Kavit Handa
International entrepreneur
Biography
Kavit Handa (Management Studies, 1994) is originally from the Kenyan capital Nairobi, and, directly after graduating from King's, he returned to Kenya to begin his working life with the UN Refugee Agency UNHCR during the refugee crisis in Rwanda. In 1994 and 1995, Kavit was part of the procurement team supplying food, water and medication to the UN refugee camps following the Rwandan genocide.
In 1996, Kavit was hired by Merrill Lynch & Co. There, he rose through the ranks to join both the Merrill Lynch Circle of Excellence and the prestigious Chairman's Club, a recognition club for the firm's top brokers. After 10 years, he left his role as Senior Vice President for Europe and the Middle East, with direct oversight for the Africa business, to set up Africa Capital. As co-founder and chief strategist of the diversified holding company, the self-confessed 'serial entrepreneur' has, for two decades, enjoyed successes (and a few failures, he admits) in starting, growing and exiting businesses in the Middle East and Africa.
Kavit's first private equity venture at Africa Capital was Intouch Relocations, which, as Chairman, he helped grow from a team of two to a team of 200. The region's leading specialist destination services provider, Intouch co-ordinates and supports relocating employees and their families, minimising disruption and ensuring they are settled and back to full productivity as quickly as possible
With a passion for continued learning, following his undergraduate degree at King's, Kavit completed various executive education programmes. He is a graduate of and ambassador for the flagship Global Solutions Program at Singularity University – the Silicon Valley think tank based on the idea that exponential technology can give anyone, anywhere, the ability to create positive impact. Since 2012, Kavit has been a member of YPO (Young Presidents' Organization), the global leadership community of chief executives who have been inspired to make a difference to the lives of those working for and with their businesses.