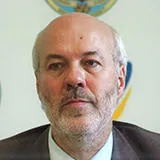 Professor Keith Hoggart
Emeritus Professor of Geography
Contact details
Biography
Keith Hoggart is an Emeritus Professor of Geography at King's. His research interests focus on links between housing, migration and social change in rural areas with policymaking and the governance of local socio-economic change.
He has authored and co-authored eight books/research monographs, has edited or co-edited seven books, and has more than 70 refereed journal articles or book chapters.
He graduated from the University of Salford, was a Commonwealth Scholar at the University of Toronto, and completed his PhD at King's. He has been a Fulbright Scholar at the University of Maryland and Temple University, and Visiting Researcher at the University of California, Berkeley. He was Vice-Principal at King's College London from 2005-2013. 
Research
Keith's research explores the governance of housing change in rural England from 1900-74. Using local and national archival sources, he is exploring how governance regimes suppressed housing betterment and created conditions ripe for the middle-class capture of the countryside from the 1970s onwards.