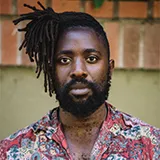 Biography
Rowland Kelechukwu 'Kele' Okereke (English, 2003) is a British musician, best known as the lead singer and guitarist of indie rock band Bloc Party. He has also embarked on an extensive and celebrated solo career.
Kele read English Literature at King's between 2001 and 2003, becoming a member of Bloc Party while he was still studying. In 2005, the band's debut album Silent Alarm reached number three in the UK charts, and won NME's Album of the Year. The record was also nominated for the Mercury Music Prize in the same year.
The band went on to release four further studio albums, with their second LP Weekend City earning them a nomination for NME's 'Best British Band' award in 2006. They have sold over three million records worldwide.
Aside from Bloc Party, Kele's career as a solo artist has led to the release of four albums and seen him collaborate with artists such as acclaimed British DJ and producer, Sub Focus. One release, entitled 2042, refers to the year in which census data estimates that ethnic minorities will become the majority population in the USA, and considers political issues such as the Windrush Scandal and the Grenfell Tower fire.
Kele is featured on the window display at the Strand Building, and was featured in the 'You Recommend' section of the Spring 2017 edition of InTouch  magazine.
Did you know? Bloc Party went through a number of names before settling on the one that became famous, including Diet and The Angel Range.