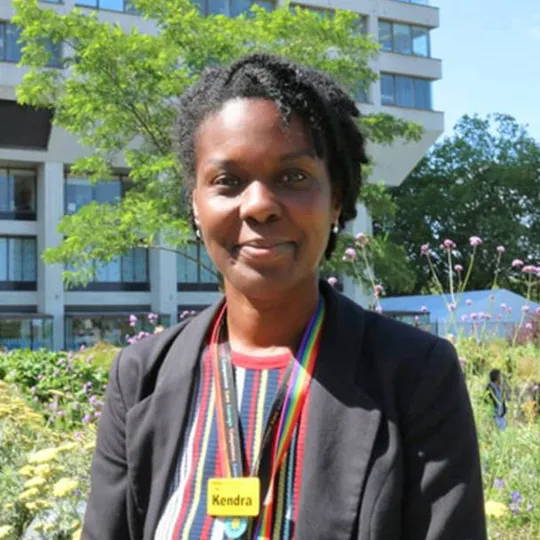 Kendra Schneller MBE
Biography
Kendra Schneller MBE (Postgraduate Nursing Free Standing Module, 2020) is an award-winning nursing specialist who has consistently supported underserved communities such as refugees, asylum seekers, and those experiencing homelessness.
Kendra has received numerous accolades for her work, including the Chief Nursing Officer's (England) Silver Award, the Nursing Standard's Community Nursing Award, King's Health Partners Adult Mentor of the year, Guy's and St Thomas' Foundation Trust Nurse Specialist of the year, the Dame Eileen Sills (chief nurse) Individual Award, and an MBE in The King's Birthday Honours, 2023. Kendra made Nursing Times' NHS 75 list alongside King's staff members Professor Len Bowers and Geoff Brennan
What are your happiest memories of your time at King's?
My happiest memories of my time at King's are of being able to interact with people who had common interests. All the staff were really supportive and approachable; you were not made to feel like any question was silly. It was a great opportunity to learn in an inclusive environment.
How have you stayed connected to King's since graduating, and why is being part of your alumni network important to you?
I have stayed connected to King's by taking part in their careers day, communicating with colleagues and students undertaking study there and checking out what's happening on the website. Being part of the alumni network is important as it gives me the opportunity to impart my experiences on those who are currently studying there and to keep up to date with what's currently happening - especially anything to do with research.
How has the ability to understand and interact effectively with people from other cultures and/or backgrounds been important in your life and career?
This has been hugely important as effective interaction and communication with people from other cultures/backgrounds gives a greater understanding of the challenges faced by individuals. It provides an enriched, transparent and open mindset. 
What advice would you give to students and alumni for success in life after King's?
Be true to yourself, and believe in the knowledge, skills and experience you are gaining/have gained through your studies at King's. Know that these experiences and skills will give you a platform to be successful in your career and ultimately your life.
To stay in touch with your alumni community, make sure to sign up for King's Connect. It provides the most effective way for you to connect with King's alumni, as well as presenting opportunities to boost your career through mentoring. Sign up today at kingsconnect.org.uk