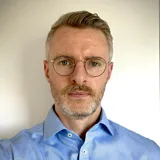 Dr Kevin Walsh
Lecturer in Nutrition & Dietetics Education
Contact details
Biography
Dr Kevin Walsh is an Academic Education Pathway Lecturer in the Dept of Nutritional Sciences, King's College London. He completed his BSc. (Hons) in Nutrition & Dietetics at Trinity College Dublin/Dublin Institute of Technology in 2009, and went on to specialise in nutrition support in general and neuro-rehabilitation settings in the NHS.
In 2014 he completed his MRes in Clinical Research, followed by a PhD in Clinical Medicine Research in 2019 and a subsequent post-doctoral research associate role at Imperial College London. His research combined 1H NMR-based spectroscopy, 16S rRNA-based metataxonomics, and dietary assessment to investigate metabolic, nutritional, and gut microbial derangements in severe childhood anaemia and severe acute malnutrition.
Dr Walsh has also led two randomised controlled trials in severe acute malnutrition, investigating the potential for legume-enriched feeds to support gut health. His primary focus in his current role is education, where Dr Walsh teaches on undergraduate and postgraduate courses in Nutrition and Dietetics.