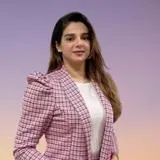 Khadijeh Rahmani
Research Project Manager (Geography)
Contact details
Biography
Khadijeh Rahmani is Research Project Manager for King's Earth Observation and Wildfire Research Group, led by Professor Martin Wooster.
Previous to this role, she worked as a Project Manager at Aston University and in a number of other administrative positions for over 10 years at various multinational companies worldwide.
As Research Project Manager, Khadijeh supports the delivery and development of the research programme and airborne capabilities within the Group. This includes managing the operational and logistical needs of the Group, deadlines and deliverables, and liaising with King's central services.
Her duties include:
Leading on communications with internal/external stakeholders, addressing and providing solutions to issues as they arise.
Managing and reporting on the Group's research budgets whilst ensuring all the financial transactions remain in compliance with the College and Funders' regulations.
Establishing and maintaining data systems regarding key performance indicators, deliverables, milestones and reporting of research and campaign outcomes.
Overseeing contracts, purchasing of highly specialised equipment, and other administrative functions with the constituent HEIs.
Supporting the recruitment process liaising with key SGA staff and HR.