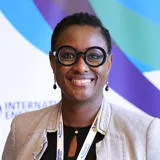 Lamé Verre
Head of Strategic Innovation & Sustainability, SSE plc
King's Business School Advisory Council member
Contact details
Biography
Lamé Verre is an award-winning Energy Executive with over two decades of working across the Energy Industry value chain in several geographies with global blue-chip companies and entrepreneurial ventures. She is currently Head of Strategic Innovation and Sustainability across the customer businesses in the UK and Ireland at SSE PLC, an FTSE 100 company.
Lamé is a Fellow of the Energy Institute and currently sits on the World Economic Forum - Global Future Council for Energy Transition and the Board of Equitable Origin (EO) - a New York-based non-profit supporting indigenous rights and gas certification projects across the Americas.
Lamé has deep industry expertise and a strong network; she is regularly invited to speak at major industry conferences across various thought leadership topics. She is the co-founder and chair of the advisory board of the non-profit Lean-in Equity & Sustainability, an independent gender diversity and inclusion initiative.
Lamé Verre has a BSc in Economics and Statistics from the University of Benin in Nigeria, a Masters in Energy, Environmental Management and Economics from the Eni Corporate University in Italy, and an MBA from Imperial College Business School.