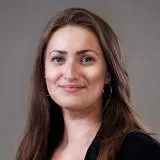 Laura Martin
Assistant Business Support Manager
Biography
Laura has a BA Honours in English Language from Cardiff University.
Before moving to London and joining King's Foundations, Laura worked in Higher Education at Cardiff University School of Medicine. She supported students and teaching staff during her time with the Curriculum Team at Cardiff University, firstly as Year 1 Coordinator and then as Year 2 Coordinator.
In her free time Laura enjoys theatre, gigs and travelling.