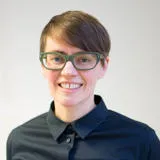 Dr Laurence Georgin MA, FHEA (she/her)
Student Experience Manager
Contact details
Biography
Laurence plays a central role in delivering strategy, policy and processes to enhance the student experience within the Florence Nightingale Faculty of Nursing, Midwifery & Palliative Care.
She collaborates with students, as well as academic and professional services colleagues, and related central directorates across the university, to ensure the continual improvement of the experience of all students.
Together with Paul Lau, Student Experience Coordinator, she ensures the successful implementation of the Faculty Student Experience Strategy, while monitoring its performance through student satisfaction surveys and other sources of student feedback.
Laurence holds a PhD in Anglophone Literature and is a Fellow of the UK Higher Education Academy (Now Advance HE). She has also worked as a teacher of French and English as a Second Language, a Project Manager in learning and teaching enhancement at the University of Southampton, and a School Manager at the School of Oriental and African Studies.
In her professional and personal life, she is particularly interested in equality, diversity, and inclusion, and is keen to remove barriers to wellbeing and success for all students and staff. She is the Faculty Disability Lead and takes an active role in championing the Faculty's EDI objectives and commitments.