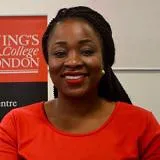 Leonide Awah
Research Aide to Professor Abdoulaye Bathily
Biography
Leonide Awah is an alumnus of the Africa Leadership Centre and a Research Aide on the Practice of Leadership programme, supporting Leading Practitioner Professor Abdoulaye Bathily.
She is currently Program Manager at the Council for the Development of Social Science Research in Africa (CODESRIA), in charge of training grants and fellowships. Prior to this she worked as a Research Assistant at the ALC, where she worked on a wide range of projects including a mapping study of the conflict terrain in Africa.
Leonide studies on the ALC's Peace and Security Fellowship programme, where she obtained a MSc in Leadership. She earned a bachelor's degree in Law from the University of Buea, Cameroon in 2009, and a postgraduate degree in law from the University of Yaoundé II in 2010. After this, she was called to the Bar.
She also worked in various capacities in the legal field before incorporating research as a key part of her work. Her research interests include state building and political development in Francophone Africa, and the role of the Rule of Law in conflict prevention.