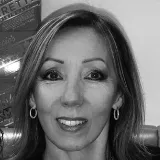 Lesley Nott
Business Engagement & Communications Manager
Contact details
Biography
Experienced Forensic Business Engagement & Communications Manager working in research and service provision in King's Forensics, King's College London. Specialist Case Manager for DNA @ King's ISO 17025:2017 UKAS and Ministry of Justice accredited laboratory. Managing international business relationships and forensic genetics research collaborations, and is an expert in complex forensic, post mortem, immigration, relationship and human identification casework.
Lesley manages King's Forensics communications and social media campaigns, and leads on branding and website development, project managing key PR, media and communications projects and the King's Forensics Symposium conference and events.
Project manages online forensic education programmes (MOOCS), provides bespoke training, and leads a student mentoring programme and lectures on professional development, digital professionalism and project management.
Lesley is lead for the Business Managers Network and Analytical, Environmental and Forensic Sciences Professional Services Network, championing PS staff and has been part of the new WoW initiative.
A trained Mental Health First Aider and provides Emotional Intelligence, Diversity and Bias training.