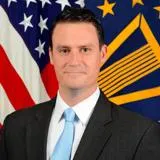 Lloyd Thrall
PhD Candidate
Contact details
Biography
Hello! I'm excited to be a part of the Department. My background combines senior defense policy leadership, foreign policy research, and elite military service, receiving honors and commendations in all fields.
I previously served as a senior executive appointee in the Obama Administration, as the Deputy Assistant Secretary of Defense for Force Readiness.  In this capacity, I reported routinely to the Secretary and the Congress on issues of strategy, policy, and the deployment of US forces. Prior to this, I published widely on defense policy and offered Congressional testimony as an analyst at the RAND Corporation. Among other positions, I've served as a senior advisor in the Army Secretariat, Director of the Rocky Mountain Region for a DoD technology accelerator, a civilian advisor in Iraq, and an analyst in the intelligence community.  I enlisted in the military directly after high school, serving in Army special operations as a light infantryman with the 1st Ranger Battalion.
I hold a bachelor's degree with honors from the University of Colorado, and a Masters with highest honors in Diplomatic Studies from London SOAS.  I live in Boulder, Colorado, and am completing the degree via distance.  I'm also an amateur boxer and published poet.
Thesis Title
Precision Instruments: An Intellectual History of American Precision Strike Warfare, 1975-2015
Abstract
How has the American military developed and employed operational concepts in the era of precision strike warfare?  This thesis presents an intellectual history of the first four decades of conceptual innovation in American precision strike warfare. I focus on two related themes: the peacetime conceptual innovation process, and the envisioned relationship between operational concepts and broader American strategy. To examine the innovation process, I employ Rosen's "theory of victory" concept. To examine the relationship between operational concepts and strategy, I draw from Rosen's "strategic measures of effectiveness" and Gray's "strategy bridge." This research examines the evolution of American thinking on precision strike in four successive historical cases: from the development of AirLand Battle through the First Gulf War; from the "transformation" debates of the 1990s through Balkan conflict; the "Shock and Awe" concept and the Second Gulf War; and in the development of Air-Sea Battle and its offshoots.  For evidence, each case incorporates new archival research, existing documentary sources, and stakeholder interviews. The conclusion examines trends across the cases, assessing continuity and change in how Americans have developed and envisioned precision strike operations as strategic instruments of policy. The findings are important to historians, security studies academics, and policymakers.
Research Interests
Strategy, Military Innovation, Intellectual History
Supervisors
Heather Williams (primary), Wyn Bowen (secondary)