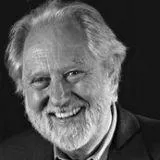 Lord David Puttnam CBE
Cultural Fellow
Biography
David Puttnam CBE is a Cultural Fellow within King's College London.  
David is a film producer and educator. He spent 30 years as an independent producer, creating award-winning films including The Mission, The Killing Fields, Local Hero, Chariots of Fire, Midnight Express, Bugsy Malone and Memphis Belle. His films have won ten Oscars, 25 Baftas and the Palme D'Or at Cannes. Alongside this, he has held key strategic positions in global and UK arts organisations, among them Chairman and CEO of Columbia Pictures, Vice President and Chair of Trustees at the British Academy of Film & Television Arts (BAFTA), Deputy Chairman of Channel 4 Television, Deputy Chair of the Sage Gateshead and Founding Chair of Nesta.
Since retiring from film production in 1998 David has focused on public policy, particularly in relation to education, the environment and the creative and communications industries. He has contributed actively to the UK educational sector by founding the National Teaching Awards and serving as the first Chair of the General Teaching Council. He has served as Chancellor of the University of Sunderland and the Open University and is Adjunct Professor of Film Studies and Digital Humanities at University College Cork. Between 2002 and 2009 he was president of UNICEF UK, during which time he campaigned on issues such as water security and child trafficking. He is currently the Republic of Ireland's Digital Champion and was most recently appointed the UK Prime Minister's Trade Envoy to Vietnam, Laos, Cambodia and Burma. David's achievements were recognised with a CBE in 1982 and a Knighthood in 1995, and in 2007 he was appointed to the House of Lords. In his role at the Lords, he has been Chair of two Hansard Society Commission Reports on the relationship between Parliament and the public and chaired the Joint Parliamentary Committee on the Draft Climate Change Bill. David Puttnam is also the chair of Atticus Education, an online education company based in Ireland.