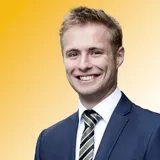 Luca Brockmann
Biography
Luca Brockmann (MSc, Public Policy and Management, 2017) is an International Development Consultant and Master of Philosophy student at the University of Oxford. Prior to this, he worked in a variety of roles for the Deutsche Gesellschaft für Internationale Zusammenarbeit (GIZ), the main German agency supporting international development.
What are your happiest memories of your time at King's?
Participating in the final of the policy idol competition and winning the style prize is probably my happiest memory of my time at King's. Not only did I get to apply the contents of my course to real world challenges, but it also was a fantastic opportunity to engage in one of the many extra-curricular activities, trainings and events offered by King's.
How have you stayed connected to King's since graduating, and why is being part of your alumni network important to you?
Since graduating I have used the opportunities offered by the King's mentoring programme to offer career advice to students and recent alumni. My career path has been anything but linear and I very much remember the uncertainty I felt as I was entering the job market. To support King's students who are in a similar position today through orientation and jointly reflect on their dreams and opportunities is therefore something I find very fulfilling.
 What success stories have you had in your career?
Supporting the Economic Community of West African States (ECOWAS) in drafting a new, fairer and more inclusive Code of Ethics has been one of the greatest successes and highlights of my career. This code will ensure that the officials representing a community of 400 million citizen are held accountable to the highest ethical standards in the execution of their duties. Overcoming the resistance and difficulties of introducing higher norms of transparency and accountability in Germany's overseas development aid spending has been another formidable and greatly rewarding experience. Implementing these changes in over 120 countries offered a unique opportunity to both continuously challenge and better myself.
How has the ability to understand and interact effectively with people from other cultures and/or backgrounds been important in your life or career?
The impact that building my ability to understand and interact effectively with people from other cultures and background had on my career and future after King's cannot be overstated. Working in international development, there are few things that are more important than a high degree of cultural sensitivity. My time at King's and my exposure to a very culturally diverse cohort has thus hugely benefited my personal and professional development.
What advice would you give to students and alumni for success in life after King's?
Do not hesitate to pursue unexpected opportunities and always challenge yourself. Few things are more rewarding than learning how to navigate and strive in a new environment.
To stay in touch with your alumni community, make sure to sign up for King's Connect. It provides the most effective way for you to connect with King's alumni, as well as presenting opportunities to boost your career through mentoring. Sign up today at kingsconnect.org.uk