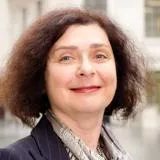 Lucy Williams
Tutor for Business Management
Contact details
Biography
Lucy holds a Masters degree (with Distinction) in Business Studies from Sunderland Business School, and has extensive experience of working in business and higher education in Russia and the UK.
Lucy has been teaching in Sunderland Business School, Coventry University London and School of Oriental & African Studies, where she was delivering modules in Business Management at both undergraduate and postgraduate levels including the supervision of final year Bachelors and Master's Dissertations. She has expertise in the areas of International Management, International Marketing, Organisational Behaviour and Research Methods. Lucy has also a background in teaching Business Management to Foundation and Pre-master's students in Newcastle University and University of East Anglia in London.
Lucy's research interests include Organisational Behaviour and Management. She is particularly interested in issues related to Trust and Psychological Contract.