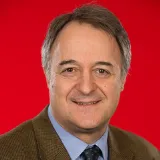 Professor Luigi Gnudi
Professor of Diabetes and Metabolic Medicine
Contact details
Biography
Luigi Gnudi obtained his MD with Honors from Parma University (Italy) in 1988 and completed specialist training in Diabetes and Endocrinology in 1993 (University of Padua, Italy). During 1992-1995 he worked as a postdoctoral fellow with Professor Barbara B Kahn (Harvard Medical School, USA). In 1999 obtained a PhD in Endocrinological Sciences from Milan University (Italy) and in 2005 he became a Fellow of the Royal College of Physicians and the American Society of Nephrology.
Luigi Gnudi is Head of the Unit for Metabolic Medicine, Professor of Diabetes and Metabolic Medicine within the School of Cardiovascular Medicine & Sciences at King's, and Consultant Physician in Diabetes and Endocrinology at Guy's and St Thomas' Hospital NHS Foundation Trust in London.
Luigi Gnudi is subject editor for Nephrology Dialysis and Transplantation, Metabolism, Journal of Endocrinological Investigation, and Diabetologia. He is a member of Diabetes UK, European Association for the Study of Diabetes, American Diabetes Association, American Society of Nephrology, European Diabetic Nephropathy Study Group, Physiological Society, ERA-EDTA, and Faculty 1000.
He speaks frequently at national and international meetings and is an active researcher, clinician, and teacher with major research interests in the study of diabetic nephropathy and diabetic vascular complications in man. He has published more than 100 original papers, books and monographs and meeting proceedings on these topics.