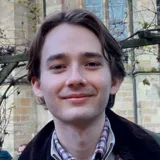 Lukas Swyton
Visiting Lecturer in Law
Contact details
Biography
Lukas is a Visiting Lecturer at the Dickson Poon School of Law, King's College London. He currently teaches Constitutional and Administrative Law on the Postgraduate Diploma in Law and Legal Practice and Public Law on the LLB.
Lukas took his undergraduate and postgraduate degrees in English law at Magdalen College, University of Oxford (BA 2021; BCL 2023), and in French law at Paris 2 Panthéon-Assas (Licence, 2020), obtaining various prizes for his academic achievement. He has worked as a research assistant in Roman Law at the Oxford Law Faculty. He completed a traineeship at the European Court of Justice, following which he continued in a clerking role at the Court, contributing to the development of EU law jurisprudence. His most recent project, under the working title 'Revival of the Rule of Law', is a comparative analysis of public law mechanisms in jurisdictions around the world. 'Revival of the Rule of Law', which Lukas co-authored with Judge Marek Safjan of the ECJ, is scheduled for publication by Intersentia in 2023.
Outside of law, Lukas cultivates his interest in history and languages.
Research Interests 
English and comparative public law
English private law with emphasis on remedies
EU law
Legal history
Teaching 
Constitutional and Administrative Law