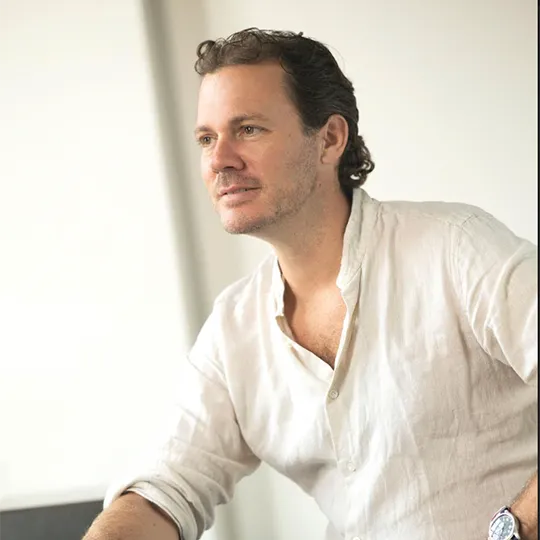 Luke Janssen
Biography
Luke Janssen (Computer Science with Management, 1997) is the founder of Concentrix  Tigerspike (now Concentrix Catalyst), a mobile technology company that grew to 300 employees during his time as CEO, and then Chairman. After selling Concentrix Tigerspike in 2017, he went on to found a number of businesses, including Mangosteen Venture Studio; an impact fund dedicated to helping under-represented founders build purpose-driven companies.
What are your happiest memories of your time at King's?
I am not going to lie, it was probably the time I spent in Tutu's.
What success stories have you had in your career?
Selling Tigerspike was a pivotal moment. It gave me the financial freedom to do what I always thought I should: help overlooked people to start good companies.
How has the ability to understand and interact effectively with people from other cultures and/or backgrounds been important in your life and career?
I left England when I was two years old so I have grown up with other cultures all my life. Initially as a family we moved every two to three months, spending time in Kuwait, Ghana, Milan, and Cairo. We eventually settled in Liberia (where we lived from 1977 to 1980), then Oman (1981–1985), Hong Kong (1986–1990), Singapore (1990–1994), then London (1994–2000), Sydney (2001–2008), New York (2008–2012), Singapore (2012–2018), then Bali in 2018 where I now live. My best workers at Tigerspike were people who had lived in a culture other than their own.
What advice would you give to students and alumni for success in life after King's?
Go and live in a country where you are the minority. And start a company or join a small startup. You can do that when you are young or old, but you must do it before you die.
To stay in touch with your alumni community, make sure to sign up for King's Connect. It provides the most effective way for you to connect with King's alumni, as well as presenting opportunities to boost your career through mentoring. Sign up today at kingsconnect.org.uk