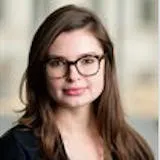 Dr Maggie Scull
Teaching Fellow in Modern British and Irish History
Contact details
Biography
 Maggie received a first class BA degree in History from Boston University. She then undertook an MPhil in Modern History at King's College London. She remained at King's for her doctoral studies and completed her PhD in 2017. Before joining the History Department as a Teaching Fellow, Maggie taught and lectured on undergraduate and postgraduate courses at King's, Canterbury Christ Church University and Fordham University.
Research interests and PhD supervision
Irish History
Religious History
Peace and Reconciliation Studies
Maggie's interdisciplinary research explores the relationship religion and politics in the contemporary period. She examines the 'soft power' influence religious leaders still possessed in British and Irish politics after the Second World War. 
Selected publications
'Rethinking the 1981 Hunger Strikes', Edited by Maggie Scull and Alison Garden, special issue, The Irish Review, June 2018.  
'Agreement 20', Edited by Maggie Scull, George Legg and Caroline Magennis, special issue, The Open Library of Humanities, April 2018.
Four Nations Approaches to Modern 'British' History: A (Dis)united Kingdom?, Edited by Maggie Scull and Naomi Lloyd-Jones, Palgrave Macmillan, November 2017. 
'The Catholic Church and the Hunger Strikes of Terence MacSwiney and Bobby Sands', Irish Political Studies, Vol. 31 (2), 2016, pp. 282-299.