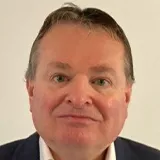 Malcolm Ace
Vice President (Finance) & Chief Financial Officer
Biography
Malcolm joined King's as Vice President (Finance) and Chief Financial Officer in June 2023. He is responsible for the delivery of King's financial strategy and targets, and the provision of financial services, information and innovation consistent with the needs of a world-class institution.
Malcolm has a long history of work in universities – at the Universities of Manchester, Oxford, Swansea and Southampton, before becoming Director of Finance at the University of Portsmouth in 1999. He then returned to the University of Southampton as Chief Financial Officer in 2004, later becoming Chief Operating Officer. In 2014, Malcolm joined the NHS and from 2016 – 2022 was the Chief Financial Officer at Hampshire Hospitals NHS Foundation Trust.
Malcolm is a Fellow of the Chartered Association of Certified Accountants.