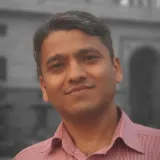 Dr Mangesh Thorat
Deputy Director (Clinical) – Cancer Prevention Trials Unit (KHP)
Contact details
Biography
Mangesh Thorat graduated from the B.J. Medical College, Pune University, in 1999. He then completed his masters in surgery (Mumbai University), DNB in surgery (National Board of Examinations, New Delhi, India), surgical oncology residency and breast surgery specialist training from Tata Memorial Hospital, Mumbai, India. Mangesh is also a Fellow of European Board of Surgery (FEBS - Breast Surgery). In 2006, he moved to Indiana University School of Medicine, Indianapolis, Indiana, USA to conduct research on breast cancer biomarkers.
Mangesh joined the Centre for Cancer Prevention at the Wolfson Institute of Preventive Medicine, London, in 2009, to continue his work on breast cancer biomarkers, with special focus on DCIS, a pre-invasive stage of breast cancer. He is specifically trying to identify biomarkers that will allow us to differentiate between DCIS that recurs or progresses to invasive breast cancer and DCIS that does not. This research will eventually allow us to spare a large majority of DCIS patients from adjuvant treatments like radiotherapy and Tamoxifen and thereby avoid side effects of these treatments. Mangesh was awarded a PhD by the University of London in January 2016 for this work. His other research interests include cancer epidemiology and prevention, particularly the role of aspirin in cancer prevention; prognostic biomarkers in prostate cancer; and clinical trials in breast cancer. Mangesh serves on the steering or data monitoring committees of several multi-national clinical trials. He also serves as the Deputy Director (Clinical) of the Cancer Prevention Trials Unit (King's Health Partners) and holds a Visiting Senior Lecturer position at King's College London.
Mangesh is a recipient of the ASCO Merit Award in years 2007 and 2008, Wellcome Trust Value In People Award in 2009 and SABCS Clinical Scholar Award in 2015. He has also received travelling fellowships from the American Association of Cancer Research (AACR), the International Agency for Research in Cancer (IARC), the European Organisation for Research and Treatment of Cancer (EORTC) and the Lynn Sage Foundation.
Mangesh served as a member of the Cancer Research UK (CRUK) Clinical Trials Advisory Awards Committee (CTAAC), the then main funding committee of CRUK overseeing the award of grant funding of the majority of cancer treatment research trials in the UK. He also serves on the executive board of the International Cancer Prevention Society (ICAPS), on the steering committees of the Early Cancer Detection Europe (ECaDE), Cancer Prevention Europe (CPE) and the UK Therapeutic Cancer Prevention Network (UK-TCPN). He is a member of the American Society of Clinical Oncology (ASCO), AACR, the British Breast Group, the National Academy of Medical Sciences, India and the Indian Breast Group.
Mangesh is a Senior Editor for International Journal of Surgery and he is an Editorial Consultant for the Lancet. He acts as a peer reviewer for dozens of academic journals in the fields of oncology, surgery and breast diseases, for the UK National Institute for Health Research (NIHR), Health Technology Assessment (HTA) Programme, The Netherlands Organisation for Health Research and Development (ZonMW), the Italian Medicines Agency (AIFA) and also for the Ireland Health Research Board (HRB). He has been named as reviewer of the month by the International Journal of Surgery, has been awarded Peer Review Certificate of Excellence by the Breast journal and has been acknowledged as a Top Reviewer by Clinical Breast Cancer. He also serves as Publons Academy Mentor.
Mangesh mentors students at the Barts and The London School of Medicine & Dentistry and is also involved in student assessment at entry into medical school and in exit exams. He also serves as the Faculty for the European School of Oncology and Ulm University: Certificate of Competence in Breast Cancer Programme.
A list of Mangesh's publications can be found here.