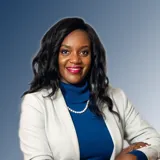 Margaret Mutumba
Biography
Margaret Mutumba (Pharmacology, 2009) is the Co-Founder of MedAtlas, a healthcare company that seeks to connect patients to specialist doctors in Africa more easily. She is also a guest lecturer at the University of Waterloo in Ontario, and has previously served as the General Manager of the Women's Hospital International and Fertility Centre in Kampala, Uganda.
What are your happiest memories of your time at King's?
My best experiences at King's were making lifelong connections through the different classes I was a part of. Being based at Guy's Hospital allowed us to interact often with each other as students and with our professors. We had a small, connected community in which we studied together and supported one another.
How have you stayed connected to King's since graduating, and why is being part of your alumni network important to you?
I have stayed connected with King's through the King's Connect platform where I am a mentor and contributor to the content. It is a great way to connect with previous classmates and persons of interest. The consistent communication from the King's team promotes greater participation from the alumni community. I have also participated in the King's Entrepreneurship Institute through the various workshops they offer - they have been valuable in my entrepreneurship journey.
What success stories have you had in your career?
Since completing my degree at King's, I completed my Masters in Public Health at Imperial College London. I then went on to work in women's reproductive heath in East Africa for over a decade. In this region, we opened the first fertility hospitals in Uganda, Rwanda, Tanzania and Zambia. We have since successfully helped many couples struggling to have children, with over 5,000 IVF babies born., I am currently completing my PhD in Public Health at the University of Waterloo, Canada, on access to affordable fertility care. Through my research and professional experience, I founded MedAtlas, a digital heath startup that makes it easier to find specialist doctors anywhere in Africa. We have recently launched and are pleased with the feedback from our clients.
How has the ability to understand and interact effectively with people from other cultures and/or backgrounds been important in your life or career?
The ability to interact with different people has been vital in my personal and professional life. Originally from Uganda, studying at King's with a diverse community helped me develop lifelong relationships with individuals from around the world. These connections have grown into mentoring groups where we support one another in our careers. It also helped me develop strong communities everywhere I go, including in Canada where I currently reside. Additionally, as a Founder/CEO, it is important to be able to understand your team including their background and culture as a strong part of who they are. The background and culture of individuals are assets that can enhance our personal and professional experiences by opening us up to interesting spaces.
What advice would you give to students and alumni for success in life after King's?
I would advise students to value their time at King's by building connections with their fellow students and instructors. As a world class institution, King's brings together the best of the best. Therefore, you are exceptional and are surrounded by equally exceptional individuals. Take those connections with you into the future as they will be valuable in your future endeavours.
To stay in touch with your alumni community, make sure to sign up for King's Connect. It provides the most effective way for you to connect with King's alumni, as well as presenting opportunities to boost your career through mentoring. Sign up today at kingsconnect.org.uk