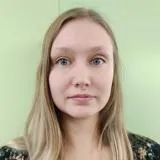 Dr Mari Napari
Clean Room Engineer
Contact details
Biography
Mari Napari is the Cleanroom Engineer in the Department of Physics. She has a varied background in fabricating and characterising materials for electronic device applications, and she specialises in thin film fabrication using atomic layer deposition.
Jan 2023 – present, Cleanroom Engineer, Department of Physics, King's College London
2019 – 2022 Research Fellow, School of Electronics and Computer Science & Zepler Institute for Photonics and Nanoelectronics, University of Southampton
2017 – 2019 Postdoctoral Research Associate, Department of Materials Science and Metallurgy, University of Cambridge
2017 PhD, Department of Physics, University of Jyvaskyla, Finland
Duties 
Overseeing daily cleanroom activities and experiments
Training and supporting PhD students, researchers and external clients to specify and deliver their fabrication needs
Providing safety advice, risk assessments, and COSHH for the safe operation of the facilities and instruments
Managing maintenance of both scientific instruments and surrounding plant equipment.