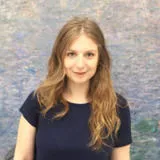 Marina Kousta
PhD student
Contact details
Pronouns
She/Her
Biography
Marina finished her undergraduate studies in Political Science in Greece with a specialisation in international and European studies. During her studies she volunteered for various think-tanks conducting secondary research on European policymaking. She was also an intern at the scientific service of the Hellenic Parliament and at UNESCO's headquarters. She then pursued an MSc at the London School of Economics to specialise in international health policy. Prior to joining Kings for her PhD, Marina worked in the pharmaceutical consulting industry. 
Research
Thesis title: 'Food insecurity, mental health and welfare change in the UK'
Marina's research focuses on the intersection of social and health policy. She aims to explore associations of food insecurity and mental health. She is also looking into the impact of welfare/social policies on both food insecurity and mental health. Marina wishes to apply mixed methods in her research by combining advanced quantitative analyses and policy analysis methods. 
Social determinants of health
Political economy
Poverty and inequalities
Social and health policy
Welfare state
Food insecurity
Mental health and well-being
Teaching
During 2021-2022, Marina was a GTA for two courses. Introduction to Global Health during term 1, and Ageing: A global perspective during term 2.
During 2022-23, Marina will be a GTA in two courses: Key Concepts in Global Health I, and Key Concepts in Global Health II
Awards
Marina received the 2022 Teaching Excellence Award for Early Career Researchers by the School of Global Affairs students.
Further details