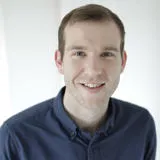 Mark Johnson
Engagement Officer
Contact details
Biography
Mark joined King's College London as an Engagement Officer in the Arts and Humanities Research Institute in July 2019, having previously worked as an Events Coordinator at University College London. He supports existing, and devises new, interdisciplinary and socially engaged research engagement initiatives, both within the AHRI and the faculty. Mark champions collaboration, providing strategic and practical advice relating to events and engagement activity. This involves advising staff on accessible and sustainable engagement, which is embedded throughout his role. Mark manages the REACH Space, an experimental and creative hub for socially engaged research.
Mark has over 5 years' experience of working in museums and galleries, including The Whitworth, the Science and Industry Museum, in Manchester, and the Science Museum in London. He worked in a variety of roles in Visitor Experience and Curatorial, engaging with visitors, running a series of creative workshops and coordinating the Science Museum's Collections team.
Mark has a BA(Hons) in Media and Popular Culture from Leeds Metropolitan University.