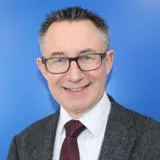 Dr Mark Packer
Associate Dean Postgraduate Taught Studies
Senior Specialist Clinical Teacher & Honorary Consultant
Research interests
Dentistry
Dental training and science
Contact details
Biography
Dr Packer is currently Associate Dean Postgraduate Taught Studies.
He is involved in both undergraduate and postgraduate education. He chairs the Postgraduate Taught Programmes Committee. He has been involved with the Faculties Distance Learning Programmes for 20-years. He has been BDS Part 5 Lead Examiner since 2002 and BDS Part 5 Exam Board Chairman since 2008 until 2018. He completes his 4-year term as Taught Postgraduate Assessment Board Chair August 2019 and is currently Assessment Part-Board chairman to six postgraduate programmes. Dr Packer is the Dental Faculty's representative to King's College's "College Assessment and Scrutiny Committee" and the Programme Development and Approval Sub-Committee.
Dr Packer graduated at King's College London Dental School, Denmark Hill and returned to teach Prosthetic Dentistry in 1983.
His research interest have been the outcome of dental implant treatment, particularly in patients with Parkinson's disease. In addition, he has been involved with Dental Education research.
Dr Packer is a Fellow of the Royal College of Surgeons of England and  a Fellow of the Higher Education Academy.