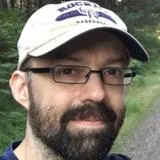 Dr Matt Russell
Electron Microscopy Applications Specialist
Contact details
Pronouns
he/him
Biography
Matt's PhD and postdoctoral research used transmission electron microscopy and tomography to examine how disruption of ESCRTs impairs endosome biogenesis in yeast and animal cells.
With this background in intracellular membrane biology, he then helped address a range of biological questions at the subcellular level at the Electron Microscopy Science Technology Platform of the Francis Crick Institute. This often involved infectious agents like mycobacteria and apicomplexan parasites. He enjoys using correlative approaches to help understand features from multiple points of view, combining electron microscopy data (often in 3D) with data from light microscopes, microanalysis, and other types of electron microscope. He's also interested in how features from volume EM images can be modelled, and those models analysed to extract meaningful data.
Matt joined CUI in 2021 to continue applying and developing these approaches.