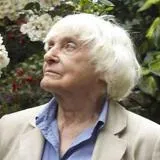 Maureen Duffy
Poet, playwright and novelist
Biography
Maureen Duffy FKC (English, 1956) is the author of more than 30 published works of fiction, non-fiction, poetry and plays. She graduated in English from King's in 1956 and became a Fellow of the College in 2002.
Maureen had a difficult childhood; her father left when she was still a baby and her mother died when she was only 15. Having completed her schooling, she put herself through university by teaching in junior schools. Maureen always had an interest in writing, she won her first poetry competition at the age of 17 and completed her first full-length play, Pearson, whilst still at King's. She continued teaching after graduation, initially in Naples and then back in London.
Maureen began writing full-time in 1961, after being commissioned by Granada TV to write the screenplay Josie. She used her first £450 advance to buy a houseboat to live in. Maureen went on to write widely for stage, screen and radio. She also has nine poetry collections to her name and is a well-respected and prolific novelist and non-fiction writer.
One of the first British women to publicly come out as gay, Maureen has been a passionate advocate for LGBT rights for over 50 years. Her openly lesbian bestselling novel The Microcosm  was ground-breaking when published in 1966 and she was a regular contributor to the lesbian feminist journal Sappho  during the 1970s. Animal rights are another theme that link Maureen's creative and campaigning work. She is the author of both Men and Beasts: an Animal Rights Handbook  and Gor Saga, a novel with a half-gorilla, half-human protagonist, which was turned into the miniseries First Born, starring Charles Dance.
Maureen has also long been a prominent champion of authors' rights. She is a Fellow and Vice President of the Royal Society of Literature and Honorary President of the British Copyright Council and of the Authors' Licensing and Collecting Society.
Did you know?  Maureen has a long affinity with London and King's. She fictionalised the university as 'Queen's' College London in her novel Capital  and has donated her archive, to be held as part of King's Collections.