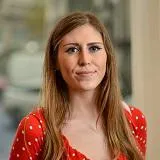 Megan Wright
Senior Programmes Officer – MA Languages programmes
Biography
Megan joined the School of Education, Communication & Society in February 2018. Previously she worked in research administration at Imperial College London and as an Editorial Assistant at Springer Nature. Megan has a BA in History and an MA in Publishing.
Responsibilities
Provides administrative support to the following programmes: MA TESOL, MA Applied Linguistics and English Language Teaching, MA Language and Cultural Diversity:
Managing matters relating to the teaching, learning and assessment activities of students, from application to graduation.
Acting as the primary point of contact for all programme-related enquiries from applicants, students and academic staff.
Monitoring student attendance, progress and mitigating circumstances.