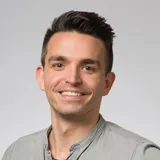 Dr Michael Berthaume
Reader in Engineering
Contact details
Pronouns
He/Him
Biography
Dr Michael Berthaume is a Reader in the Department of Engineering at King's College London. Before joining King's, he was at London South Bank University where his administrative duties included being Deputy Head of the Division, in charge of Research and Enterprise. He is a fellow of the Royal Anthropological Institute (RAI), member of the Exceed Research Network (ERN), and an executive member of the inaugural UK Young Academy, which is supported by the Royal Society and other senior academies within the UK.
Dr Berthaume is an "anthroengineer" with degrees (UMass, Amherst) and postdoctoral experience (University of Hull, Max Planck Institute of Evolutionary Anthropology, Durham University, and Imperial College London) in both anthropology and engineering. He truly believes transdisciplinarity is the future, providing a holistic view of problems and challenges, enabling them to be addressed and solved in new, novel manners.
The three pillars of his research include:
1. Primate evolutionary biomechanics: investigating how biomechanics has shaped primate and human evolution, with a focus on diet, mastication, and Plio-Pleistocene hominin evolution. Current projects include using statistical shape analysis to understand dental evolution, and rigid body masticatory models to understand how to take phylogenetic relatedness into account when analysing biomechanical data.
2. Biomechanics of human biological variation: with a particular interest in the role of sesamoid bones in human movement, and how environmental factors, like nutrition, affect biomechanical performance. Current projects include quantifying the role of the fabella during locomotion and helping co-designing a rehabilitation tool for those with eating disorders.
3. Prosthetics in low-and middle-income countries (LMICs): this line of work focuses primarily on collaborating with war victims and diabetic amputees in Sri Lanka and southeast Asia to co-design and create prosthetics which fulfill end-user biocultural needs in a sustainable manner. Methods like ethnography, surveys, structured interviews, database analyses, and failure analysis are often used. Currently, there is a collection of 100+ locally manufactured broken prosthetics from northern Sri Lanka housed in the anthroengineering lab at King's.
He is the recipient of the Royal Society's prestigious interdisiplinary APEX award, and his research has been funded by the Royal Society, British Council, EPSRC, GCRF, and Innovate UK. He is a strong supporter of public engagement and public outreach, having worked at the Royal Society's Summer Science festival and was previously a talking head for two seasons on the television show Engineering Disasters.
Research Interests
Primate evolutionary biomechanics
Biomechanics of human biological variation
Prosthetics in low-and middle-income countries (LMICs)
More Information