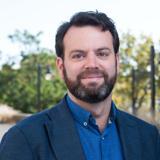 Dr Michael Collins
Reader in American Studies
Contact details
Biography
I completed my PhD at The University of Nottingham with a thesis on the 19th Century US Short Story and Theatre. This work became the basis of my first monograph - The Drama of the American Short Story (University of Michigan Press, 2016). Between 2010 and 2012 I held a Leverhulme postdoc at Nottingham to work on the relationship between class politics and anthropology in 19th -and 20th- century US literature and culture. This work informed my second monograph, Exoteric Modernisms: Progressive Era Literature and the Aesthetics of Everyday Life, forthcoming with EUP. Following a lectureship at The University of Kent, I joined King's in Sept. 2018. Most recently, I have been working on a cultural and literary history of intelligence testing in the U.S. as part of an AHRC Early Career project entitled, "Literary Culture, Meritocracy and the Assessment of Intelligence, 1880- 1920" (2017 - 2019). I am also at work editing the new Cambridge Companion to the American Short Story with Gavin Jones (Stanford).
From August 2020, I will be the Deputy Head of Department/Director of Education.
Research Interests and PhD Supervision
American Intellectual History, American Studies, specifically Anthropology and Sociology
Ethnicity and Class in U.S. Literature and Culture
American Realism and Modernism
The American Short Story
My interests cluster around theories of ritual and performance as they relate to the development of U.S. literary movements and the "American Culture Concept". I also maintain a deep interest in the history of the American short story, and intersections of class and race in U.S. fiction, life writing, and journalism from the antebellum period through to late modernism.
I welcome applications for PhD topics in any of these areas. For more details, please see my full research profile.
Samples of his work are available "open access".
Expertise and public engagement
My recent podcast Plague Lit Pod, co-created by my colleagues in the English department, came out in 2020 and is about the history of treatments of plagues and pandemics in literature, and what the study of literature brings to our understanding of disease. The three-part series is available below:
News
New podcast series features English scholars debating the literature of pandemics in Covid-19 times.
News
New podcast series features English scholars debating the literature of pandemics in Covid-19 times.