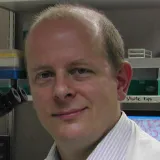 Dr Michael Robson PhD
Consultant nephrologist
Contact details
Biography
Dr Robson is a consultant nephrologist at Guy's and St Thomas' with a clinical interest in glomerulonephritis and vascular access for haemodialysis. He is a lead nephrologist in a clinic with one of the largest cohorts of patients with lupus nephritis in the UK, and works closely with rheumatologists specialising in lupus.
From 2017 - 2021 he was Chair of the UK Kidney Association Clinical Practice Guidance committee.  Fifty percent of his time is spent on clinical work. Previous research has been laboratory-based with the aim of understanding the mechanisms of disease in glomerulonephritis in order to discover new treatments.  He was also the Chief Investigator in the PAVE trial, a multi-centre clinical trial funded by the National Institute for Health Research, aimed at preserving vascular access for haemodialysis.
Currently he is developing clinical trials in both vascular access and lupus nephritis. He is also the local investigator for a number of commercial trials in lupus nephritis and IgA nephropathy. He is keen to hear from clinical trainees interested in research on lupus nephritis or vascular access.