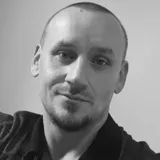 Michal Rosiek
Trusted Research Environment Lead
Contact details
Biography
Michal Rosiek is an accomplished IT professional with extensive experience in IT and customer service. As a trusted research environment lead at King's College London, he is responsible for overseeing the development and management of secure research environments.
Michal joined the e-Research team at King's College London in October 2022 with the mission to build and implement the Trusted Research Environment (TRE) infrastructure. As a master of science and the lead of the TRE, he is responsible for researching, planning, and implementing trust, privacy, and security technologies to meet the highest standards required for scientific research.
Before joining King's College London, Michal worked for several years as a computer scientist at Oxford University Hospital's NHS Foundation Trust. During his tenure, he gained valuable experience in software development , designing and implementing IT solutions that improved clinical systems' performance and efficiency.
Michal's area of interest lies in automation, IoT, and CaaS. He is a strong believer that these technologies have the potential to revolutionise the way we work and live, and he is passionate about exploring their potential applications in the research environment.