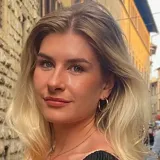 Ms Mollie Payne
NIHR Doctoral Research Fellow
Contact details
Biography
Mollie joined King's College London in October 2020 as an NIHR Pre-Doctoral Research Fellow, where she completed her MSc in Applied Statistical Modelling and Health Informatics (2020-2021). Her dissertation project was a secondary analysis of a clinical trial, that evaluated mediation mechanisms in the presence of time-varying confounding. Mollie then worked as a Research Assistant in the Trials Methodology Research Group (2021-2022). She transferred to a Doctoral Research Fellowship in October 2022 and began her project in dose-response methodology in complex interventions.
Prior to working at King's College London, Mollie completed an MSc by Research in Psychology and Canterbury Christ Church University. The project focused on the creation and validation of a psychometric measure for women's perceptions of interpersonal relationships. She then joined the University of Central Lancashire's Clinical Trials Unit as a Research Assistant. In this role she helped with the analysis of clinical trials and the delivery of introductory statistics courses to medical students.
Mollie continues to be part of the Trial Methodology Research Group and her PhD project aims to review the current literature surrounding dose-response in complex interventions and propose novel methods that address the current limitation, in both analysis and trial design.
Research Interests:
Causal Inference
Dose-Response
Non-compliance
Mediation Analysis
Trial Design
Mental Health