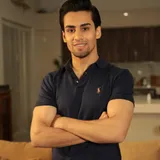 Momin Saqib
Social entrepreneur, activist and public speaker
Biography
Momin Saqib (Computer Science with Management, 2019) received the 'In Service' Award at the King's Distinguished Alumni Awards in 2021. This honour is bestowed on a member of the alumni community who has served the needs and aspirations of society, making a significant positive impact. Momin also has Honorary Life Membership of King's College London Students' Union (KCLSU), an award reserved for the exceptional few who have demonstrated extraordinary dedication, passion and innovation to drastically improve KCLSU and the university. He is also an Associate Fellow of the African Leadership Centre for the Peace, Security, and Development Programme.
Born in Lahore, Pakistan, in November 1994, Momin made history when he became the first non-European national to be elected president (2017-18) of KCLSU, the oldest students' union in the UK, founded in 1873. In his inspirational commencement speech addressing students graduating from King's in 2017, Momin said: 'We should be a symbol of the change we want to see in the world. We should be […] ambassadors of peace and knowledge.'
In 2016, Momin and his brother Bilal Bin Saqib co-founded Tayaba, a Forbes-recognised social enterprise that provides clean water solutions for vulnerable families in rural Pakistani communities. In 2021, Momin and Bilal were commended with a Points of Light award for individuals making a change in their community by Prime Minister Boris Johnson for the One Million Meals campaign, providing free nutritious meals to NHS and frontline keyworkers during lockdown in 2020. The Commonwealth also lauded Momin as a Commonwealth Youth COVID-19 Hero for efforts to support communities amidst the pandemic.
In 2022, Momin was awarded a Newsweek Scholarship to pursue a master's in Global Leadership and Peacebuilding at King's. Being an advocate for inter-cultural exchange, peace and harmony, Momin hopes to hone his leaderships skills through this programme to transform and uplift communities, paving the way for a brighter tomorrow.
Momin has long been known for his social activism as an influencer and public speaker. Momin's 2019 TEDxLCWU (Lahore College for Women University) talk 'How Can Diversity in Perspectives Help Develop Culturally Competent Mindsets?' revisited the idea of striving for a more peaceful future for humanity, as well as inclusivity in education. He prides himself on being a problem solver who thinks outside the box, and he encourages others to do the same. Momin has travelled extensively to Arizona State University (United States) and the University of New South Wales (Australia) to represent King's, and, as Engagement Officer for the King's Vision 2029 strategy, he ensures the involvement of the entire local and international student body in working towards making the world a better place as the university approaches its 200th anniversary.