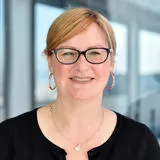 Ms Joanne Kirner
Chief of Staff, SVP Academic
Contact details
Biography
Joanne Kirner was appointed in October 2017 as Faculty Operating Officer for the Faculty - the largest dental school in Europe and a centre of excellence in the UK for oral craniofacial and dental research.
Leading an effective Professional Services team, Ms Kirner is responsible for the effective oversight of the faculty and its resources, ensuring it is well managed within a clear strategic and operational framework.  Working closely with the Executive Dean, Joanne plays a major role in driving the development and implementation of faculty strategy, ensuring alignment with Vision 2029 and facilitating the faculty's ambition to be world leading in dental, oral and craniofacial education, research and clinical care by 2023. More broadly, as a member of the Professional Services Executive team, the role contributes to the development and embedding of a cross-university end-to-end professional services delivery model enabling effective support for world-class education, research and knowledge transfer activities.
Joanne Kirner joined King's with 18 years' experience in the higher education sector, 15 of which were in senior management roles across Medicine and Dentistry. Her proven leadership and change management skills have been demonstrated through the delivery of several successful transformation programmes to support high quality education and research delivery, evidenced in the rise in rankings of her former institution to 1st place in the UK for Dentistry (2017).  She is a master's graduate in Higher Education Management (IoE) and is a member of the Dental Schools Council.
Early 2022 Joanne took up a secondment as the Chief of Staff for the Senior Vice Principal Academic.