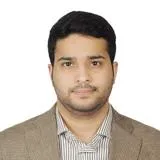 Muhammad Ibrahim Tariq
International Management MSc, 2015
Biography
Describe your career journey from being a student at King's to being in your current role
After studying a MSc in International Management at King's, I pursued a Graduate Diploma in Law from BPP University London. I studied further at London School of Economics and Political Science, graduating with a MSc in Economy, Risk and Society. Three years later, I now work as a Director for the Steel section within the Alshafi group of companies.
What's the one thing you enjoy most about your current role?
I am very passionate about my current role. I see growth in our project and my energies are focused on constant innovation and efficiency in our plant. I enjoy working as a team and seeing our success, as a team, reflected in the operations of the plant.
What have been your biggest achievements in business and your career so far?
When I joined the steel plant, it was not functional. The goal was to restart the plant successfully and efficiently within a year. Many people said it was failed project, but things changed and now we are enhancing production capacity. I think this is a big achievement that my team and I were able to transform the plant, we proved the doubters wrong.
How did your time at King's help with your career journey?
My experience at King's has been close to my heart. The negotiation skills, the teamwork and the adaptation strategy I learnt has really helped me to date.
What is the best piece of advice you have for current King's Business School students on achieving success in their careers?
I would say perseverance commands success. You have to be consistent, proactive and honest with your job. You have to be sincere with your team, give them the best advice to ensure growth and success.
What advice would you give to future students thinking about studying at King's Business School?
I think King's is the best in terms of diversity and interacting with diverse communities - it's a rare set you get in one house. The pool of applicants is of high quality and an admission to the business school is something you can be justifiably proud of.